Thoughts from a Retirement Coach
By Mariella Vigneux, MBA, ACC
Certified Professional Coach
At a glance, you might think that the oldest person in the world didn't have much to teach us about living well in retirement.
Born in 1875 in Arles, southern France, Jeanne Louise Calment lived well over 122 years, dying in 1997.  She attended a local college, graduating when she was 16 years old.  She lived at home, where she painted and played the piano.  At the age of 21, she married a double cousin.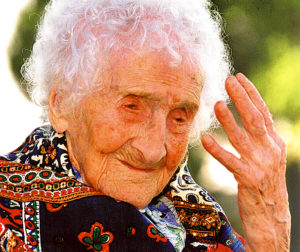 "She married a cousin, Fernand Nicolas Calment, in 1896. As the prosperous owner of a store in Arles, he was able to support her in style, and she never had to work. She played tennis, took up roller skating, bicycling and swimming and took great pleasure in joining the hunting parties he organized. She also studied the piano and enjoyed the opera."
"They led a leisured lifestyle within the upper society of Arles, pursuing hobbies such as fencing, cycling (at Saint-Rémy-de-Provence), tennis, swimming, rollerskating at Alyscamps, and playing the piano and making music with friends. In the summer, the couple would stay at Uriage for mountaineering all the way up to the glacier, getting sunburnt in the process. She also went hunting with her husband, using an 18mm rifle, in the hills of the Provence to shoot rabbits and wild boars, but disliked killing birds."
So she didn't really retire, because she never had a job.  She had one child and one grandchild.  and lived in the apartments above her husband's shop in Arles. She lived a life of leisure and even had income after her family died, as a result of a contingency contract to sell her apartment.
"One much-told story is that in 1965, when Mrs Calment was 90, a local lawyer made a deal with her to take over her flat when she died, meanwhile paying her the equivalent of $500 a month. But the lawyer died first, 30 years after making the deal, having paid Mrs Calment several times the value of her flat and ensuring that she lived out the rest of her time without money worries. "It happens in life that we make bad deals," Mrs Calment was reported to have said."
Eventually, Jeanne moved into a nursing home and lived mostly in good health, until her final year.
Ownership of her identity
When we look beyond the cotton wool and privilege of Jeanne's life, we see that it embodied many of the factors that contribute to emotional and social well-being in retirement.  For instance, she seems to have fully embraced her identity as the oldest person in the world.  She was celebrated for her witticisms about her role:
"I wait for death and journalists."
At the end of an interview, in response to a journalist who said he hoped they would meet again the following year, she said, "Why not? You're not that old; you'll still be here."
"Excuse me if I'm clinging on to life, but my parents wove me from tight thread."
"I've never had but one wrinkle, and I'm sitting on it."
"I have legs of iron, but to tell you the truth, they're starting to rust and buckle a bit."
On her 120th birthday, when she asked was what kind of future she expected to have, she replied, "A very short one."
Self-knowledge and self-esteem
Jeanne once said, "I'm not afraid of anything."  She seems to have tackled life head on, showing little regret and much gratitude.  Of all Jeanne's witticisms, here is my favourite:
 'I took pleasure when I could. I acted clearly and morally and without regret. I'm very lucky.'
She had a strong sense of self.  When her memory started to fail soon after falling and sustaining two fractured bones, she tartly said, "When you're 117, you see if you remember everything!"
A Sense of purpose?
Surprisingly, Jeanne didn't pursue an overriding passion.  She said, "I'm interested in everything but passionate about nothing."  She loved many things – music, food, family, cycling, painting, and sports.
Contributing to her world
Even when Jeanne's world became confined to a nursing home, she found ways to contribute to the world around her.
"In the afternoon she would take a siesta for two hours in her armchair, and then visit her neighbours in the care home, telling them about the latest news she had heard on the radio."
Two years before her death a documentary film about her life was released. The year before her death she performed a speaking role on a rap recording for the benefit of her nursing home. She consented to interviews until her 122nd birthday.
A positive frame of mind
Public health researcher Jean-Marie Robine said about Jeanne Calment, "I think she was someone who, constitutionally and biologically speaking, was immune to stress.  She once said, 'If you can't do anything about it, don't worry about it.' " According to Robine, unflappability was her great strength.
This unflappability showed up in some of her recorded words:
"I see badly, I hear badly, and I feel bad, but everything's fine."
"Always keep your smile. That's how I explain my long life."
"I never wear mascara; I laugh until I cry too often."
"I'd like to go to the Moon."
Undeniable resilience
On the surface, Jeanne's life may have seemed sheltered and privileged, yet she faced some tough times.
Jeanne's daughter, Yvonne, died at age 36, in 1934, from pneumonia.  Her son, Frederic, was then eight years old. Jeanne and her husband, Fernand, raised Frederic.  A dessert of spoiled preserved cherries killed Jeanne's husband in 1942. Frederic went on to become a doctor, living with Jeanne until he died in a motorcycle accident in 1963, at the age of 36.
Jeanne managed to re-establish her equilibrium and to weather the loss of her only child, her husband, and her only grandchild.  She showed a remarkable, bounce-back resilience, bringing herself to a state in which she could say, "I think I will die laughing." In fact, she became so reconciled to her losses that she was able to state, later in life, "Not having children is one less worry. Children are a worry!"  And she lived long enough, and with enough wisdom, to say, "Every age has its happiness and troubles."
She continued cycling until her hundredth birthday and only moved out of her own home when she was almost 110 years old.
"Around her hundredth year she fractured her leg but recovered quickly and was able to walk again. After the death of her grandson in August 1963, Calment lived on her own from age 88 until shortly before her 110th birthday, when she decided to move to a nursing home. Her move was precipitated by the winter of 1985 which froze the water pipes in her house (she never used heating in the winter) and caused frostbite in her hands. According to one of her doctors, she had hitherto been healthy but began aging at this point, when moving to the nursing home."
Although she lived most of her life in good health, Jeanne was a petite woman (only 4'6" and weighing only 88 pounds when 115 years old) and she spent the last days of her life almost blind and deaf.  At the age of 115, researchers examined her physical health.
"They analysed her for over a year and reported that Jeanne Calment's vision was severely impaired by bilateral cataracts, yet she refused to have a routine operation to restore her vision; she had a moderately weak heart and a chronic cough ("caused no doubt by her previous use of tobacco") and bouts of rheumatism."
Those last years must have challenged Jeanne at times.  She was known to say, "I've been forgotten by our Good Lord."  
She died 164 days after her 122nd birthday.  Cause of death was unspecified.
It's somehow comforting to know that, as she had requested, photographs of her daughter and grandson were placed on her coffin.
A balance of free-flowing leisure and structured routine
Jeanne followed a very structured daily routine.  Here is just a sample of her day:
"After her admission to the care home Maison du Lac [House on the Lake] in January 1985 at the age of 110, she initially had a highly ritualized daily routine whereby, uniquely among the care home residents, she requested to be woken at 6.45am and started the day with a long prayer at her window thanking God for being alive and for the beautiful day which was starting, sometimes loudly asking the reason for her longevity and why she was the only one alive in her family…
Her breakfast consisted of coffee with milk, and rusks. Her morning toilet included washing herself unassisted with a flannel rather than taking a shower ("an odd invention"), and applying first soap, then olive oil and powder to her face. She washed her own glass and cutlery before proceeding to lunch….
 At nightfall she would dine quickly, return to her room, listen to music (her eyesight now being too poor for her favorite pastime of crosswords), smoke a last cigarette and go to bed at 10pm."
She had a yin-yang approach to her life, not all health and structure! She sometimes ate more than two pounds of chocolate in a week.  She smoked cigarettes from the age of 21 to 117, though likely no more than two a day.  It is said that she quit smoking, not for health reasons, but because she was almost blind and required help lighting her cigarettes.
Jeanne was known to dislike a mundane life.  The move into a nursing home must have been a trial to her for that reason.  She complained about the bland food, preferring spicy and fried foods. She loved crèmes, pound cake, vanilla ice cream, and French wine.
She exercised her mind, body, and soul.  She enjoyed doing crosswords, listening to music, and she would participate in seated exercises while wearing a stereo headset.
"Her exercises included flexing and extending the hands ("a distinguished woman must have beautiful hands"), then the legs, and her carers noted that she moved faster than the other residents, who were 30 years younger, despite her blindness."
Lessons learned from Jeanne Louise Calment
Here is a short list of some of the lessons we can learn from a woman who lived to be 122 years, 164 days:
Remain unflappable
Take pleasure when you can
Act clearly and morally and without regret
Keep active
Try new things
Stay connected
Have a daily routine
Accept what you cannot change
Get beyond your grief
Do crosswords
Eat chocolate
 Hats off to Jeanne Louise Calment!
If you'd like to see if you're on track in your own retirement, please go to
How well are you doing in retirement? Part one – taking your pulse.
For ways we can improve our level of social and emotional well-being in retirement, please see
How well are you doing in retirement? Part two – strengthening your pulse.
 ________________________________________________________
Sources: