Thoughts from a Retirement Coach
By Mariella Vigneux, MBA, ACC
Certified Professional Coach
I've started going to the gym again, after being away for a dozen years. Being in a communal change room once more reminded me that my body had changed in the interim. I was about to add 'not for the better,' but I'm trying out a new way of thinking: our bodies change constantly throughout our lives and the changes are natural and, yes, even beautiful.  I'm thinking of old trees, and how gorgeous their gnarly bits can be.
The Angel Oak
Take the Angel Oak Tree of Charleston, South Carolina.  When I saw a photograph of that tree I thought 'intricate,' 'complex,' 'a host to other life,' and 'magnificent.'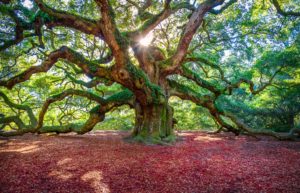 According to Wikipedia…
The Angel Oak a Southern live oak (Quercus virginiana) located in Angel Oak Park on Johns Island near Charleston, South Carolina. Angel Oak is 400 years old. It stands 66.5 ft (20 m) tall, measures 28 ft (8.5 m) in circumference, and produces shade that covers 17,200 square feet (1,600 m2). Its longest branch distance is 187 ft in length.

As I was reading various descriptions about this tree, it occurred to me that you could describe people of retirement age in almost identical terms.  Both the Angel Oak and retirees…
provide shelter from storms;
sustain a giant network;
have evolved to withstand forceful winds;
do not need height to astound; and
are known for their majestic canopy, rather than their stature.
My mother in the mirror
That is not to say that seeing the aging of my body is not shocking at times.  My first day in the gym change room, I saw myself in the mirror and standing beside me was a beautiful, young woman who was wearing a matched set of lacy, apricot underwear.  No extra flesh, wrinkles, or droopiness marred her exquisiteness.  Comparing myself to her, I imagined it was my mother peering at me from the mirror.
In her poem Ode to Wattles, American poet Sharon Olds describes, as she puts it, the "thrillingly unloveliness of an elderwoman's aging." She is both impressed and dismayed by the wattles of her neck, the "face hanging down from the bottom of my face," the "slackness of the drapery."
Yet I don't see unloveliness when I look at the Angel Oak.  I don't look for flaws. I say, "Wow, that is fantastic!  I should go visit that tree."
Embracing crepe bosoms
Why are we so hard on ourselves?  So what if we develop spots, wattles, and wrinkles as we age?  Let's find the character and beauty in cauliflower ears and drooping noses.  Bravo to skinny-shanked men and crepe-bosomed women.
Some of the most powerful photos I've seen have been black and white images of old people – ancient souls with their life experiences etched in their flesh and radiating through their eyes.  No dyed hair.  No makeup. Just them – straight up. The essence of their lives grooved into their faces.
The state of our exterior cladding isn't important at this age.  Cuteness may be what kept our parents from murdering us when we were babies, through colic and tantrums.  Beauty may have mattered when we were young adults, seeking out mates.  And we needed to be physically strong during the middle years working or raising children.  Now we are past all that.  Sure, we need to be physically healthy, but cuteness, beauty, and peak physical strength aren't as necessary.
Rising to the challenge
What does matter, then?  I read recently that we have within us many hidden gems, and that life is about uncovering these gems, giving them to the world.  Or maybe what matters is rising to the challenge.  At the gym, I regularly see a man and his partner taking a yoga class at 6:30 in the morning. He comes to support his partner as she strengthens her body so she can tolerate her cancer treatments.  And then he heads off to work. A 95-year-old woman recently told her gym friends that she wouldn't be able to get to the pool as early as usual… because she had to get to her line dancing class. I met a woman who has swum at the gym pool regularly since 1976.  She taught swim classes for years.  Now, due to severe arthritis, she uses two walking sticks to get about. But she is always cheerful.  These older people are exhibiting admirable inner resources in circumstances that might level younger individuals.
Claiming our power
Maybe at this stage of life it is time to see and to claim our power.  Like the massive oak tree, we too have broad reach and extensive networks.  We have built a base of knowledge through experience and learned important lessons.  We can sow our acorns with confidence.  Our immense canopies can be used to protect and nurture the seedlings we care about.
I haven't yet learned to see myself this way, but perhaps it's time to step back and to really look in the mirror – to acknowledge that I am now my mother.  Just as my changing exterior periodically surprises me, so too does the changing of my life stage.  And with this new life stage – if I'd only admit it to myself – comes significant power and influence… and the responsibility to use them well.
And why not think more kindly of myself and others my age, even if we have wattles and wrinkles?  When I'm changing at the gym next time, I'm going to make a point of admiring my fellow oaks, looking past their outer cladding, to see their power.  And as my sister Helen said, we need to take seriously what the generation before us has to illuminate, that we should "ask upward."  Only imagine what they have to offer us.