Tales of Retirement
By Josette Vigneux
Registered Nurse
Retired April 7, 2017
Today was my last day of work… ever.  After 30 years I signed in for the last time.  It was the last time for so many things, and the start of my next chapter.
My alarm went off at 6:30 a.m. as usual, although I was already up with the dogs at 5:45.  I fed them, then grabbed my coffee and went back to bed to savour it while I fully woke up.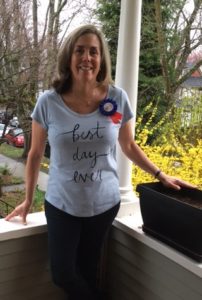 Once up, I quickly flipped into my usual routine – I put my steel cut oats into the microwave, put an egg on to boil, got dressed, and did my hair and makeup.  I put on a new T-shirt, one that I had found months ago, which had the words "Best Day Ever" boldly across the front. Although I truly love my job, and leave it with mixed emotions, I could not resist this shirt.
On the drive to the hospital I was excited… but also melancholy. I have spent so much of my life with the people in that building – the nurses, doctors, support staff, patients and their families, cleaners, kitchen staff, and so many more. We are a community and a family. I kind of feel like I am leaving the nest. Scary and exciting at the same time.
The last time
Today was the last time for so many things:
Last time to try to find that perfect parking spot close to the door
Last time to take the elevator to the 14th floor (as usual, it took forever coming)
Last time to open up my computer, print out a new patient list for the day, lead rounds, and tackle whatever else would be thrown my way
Last time to calm an angry family when things weren't going the way they should, or at least the way they thought they should
Last time to hear a patient say I had made a difference to their stay in hospital
Last time to say "Goodnight. See everyone tomorrow!"
Over my 30 years as a nurse, I did so many things. What a wonderful career. The 12-hour shifts were great… when I was younger.  I found the Monday-to-Friday 8-hour shifts more suited to me as I 'matured.'  I worked in several different areas of the hospital, so I never felt stuck in the same job. I was a staff nurse on the 'Willie Ward.'  Urology, officially.  This position provided non-stop material for dinner party stories – much to the dismay of the non-medical guests.  As co-ordinator of a hip and knee replacement unit, I was proud that we got the place running like an efficient assembly line.  For a while, I worked in the Bladder Care Centre.  Patients came in for bladder testing – terrified – and left saying, "That wasn't so bad!"  My final position, as leader of a medical unit, was by far my most rewarding position. Not only did I work with the nurses and patients, but I also helped the medical students who were learning to become doctors.
Ice cream treats
It is hard to arrange any sort of get-together while at work, because we still have to be available to our patients and their families. But food usually does the trick.  In the morning, I spread the word that there would be ice cream treats on the Unit at 2 p.m., after my last set of rounds.  Those who could make it showed up.  I handed around ice cream sandwiches and popsicles that I had brought, and we had a good visit.
I had only one episode of tears – that with a long-term colleague who came to see me in the morning to say goodbye – but I generally held it together, much to my surprise. I don't actually feel sad about leaving, because I am so excited about what is to come next. We'll see how I do at my retirement party later in the spring, though.
Breaking free
I thought I would leave a little early on my last day, but, as luck would have it, I got busy and ran late. Once done, however, I gathered up the flowers and gifts that people had so generously brought for me. I put on my coat, and said a big goodbye to the medical team who were doing their end-of-day rounds in the area outside my office. I left my key for the person covering me next week and headed to the elevator for the last time. As I was walking through the lobby towards the door, the retirement balloon that had been given to me broke free from its string and sailed up to the ceiling. I took that as a sign… the sky is the limit!
As I was driving home listening to CBC I was thinking of that glass of bubbly I would be having to celebrate. So many people were surprised to hear I was retiring. Some said I was too young (I love those people) and some said what will we do without you? (I love them equally)
My next chapter
Well. I am home now. Bubbly in hand.  Toasting with a few close friends.
Today is the first day of my next chapter. I am excited to see how things will unfold as the pages turn.  One thing for sure – I will be having coffee in bed tomorrow, with my dogs snuggled next to me.